Ultra-Modernism
Architecture and Modernity in Manchuria
(超現代主義:滿洲的建築與現代性)
ISBN : 978-988-8390-50-2
---
Architecture, Urban Planning, Environmental Studies
December 2016
160 pages, 6″ x 9″, 41 b&w illus.
---
---
Ebooks
---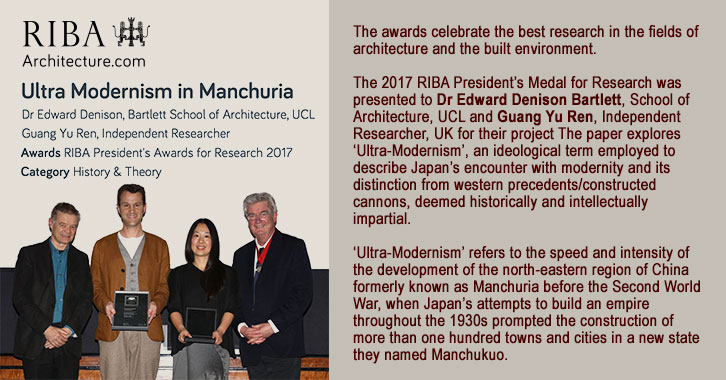 The first half of the twentieth century was fraught with global tensions and political machinations. However, for all the destruction in that period, these geopolitical conditions in Manchuria cultivated an extraordinary variety of architecture and urban planning, which has completely escaped international attention until now. With over forty carefully chosen images, Ultra-Modernism: Architecture and Modernity in Manchuria is the first book in English that illustrates Manchuria's encounter with modernity through its built environment. Edward Denison and Guangyu Ren take readers through Russia's early territorial claims, Japan's construction of the South Manchuria Railway (SMR), and the establishment of Manchukuo in 1932. The book examines in detail the creation of modern cities along the SMR and focuses on three of the most important modern urban centres in Manchuria: the Russian-dominated city of Harbin, the port of Dalian, and the new capital of Manchukuo, Hsinking (Changchun).
Like so much of the world outside 'the West' during the twentieth century, Manchuria's encounter with modernity is merely a faint whisper drowned out by the deafening master narrative of Western-centric modernism. This book attempts to redress an imbalance in the modern history of China by studying the impact of Japan on architecture and planning beyond the depredations of the Sino-Japanese War.
'Ultra-Modernism: Architecture and Modernity in Manchuria is a concise, fascinating reminder of northeast China's transformation a century ago, when it was known as Manchuria. Denison and Ren show how Dalian, Shenyang, Changchun, and Harbin went from a sleepy port, a decaying imperial seat, and small agricultural settlements to sleek, manicured metropolises linked by the world's longest railway to Europe. This is an excellent addition to both syllabus and bookshelf.' —Michael Meyer, author of In Manchuria: A Village Called Wasteland and the Transformation of Rural China and The Last Days of Old Beijing: Life in the Vanishing Backstreets of a City Transformed
'Manchuria today conjures up images of rusting heavy industry and a hostile environment. But beneath the coal dust is a built environment that was once at the cutting edge of what was meant to be modern. This creative and comprehensive book takes readers back to a time when the region was an outdoor laboratory for modernity and cosmopolitanism.' —James Carter, author of Creating a Chinese Harbin: Nationalism in an International City, 1916–1932
---
Other Books by Author / Related Books